Win More Customers With a Podcast.
Because when you create a podcast, you build trust and come across as an expert in solving your customer's problem. You create awareness for your brand, your people.


And that becomes your competitive advantage. Something your competitor cannot replicate by spending more dollars!
Start your very own podcast, in under 20 days
without breaking a sweat (or the bank)
Yep, we launch your podcast (in under 20 days), manage every aspect of it, and distribute your podcast across social, email, website, and several other places.
Our fully done-for-you podcasting service ensures your prospects see you as someone who creates exceptionally great content.

Build thought leadership
Podcasts allow you to share your thoughts, expertise and insights. This builds trust among your listeners, improves shareability of content and increases your brand's authority.

Increase brand awareness & credibility
Podcasts help increase the awareness for your brand with a much higher, targeted reach. You engage with a wider pool of audience, organically with every episode.

More effective than cold emails
Unlike cold emails, you need not hard-sell your brand's worth to your target segment. This medium, literally 'does the talking' for your brand.

Great for account-based marketing
Your podcasts are a great way to network with key decision-makers across your industry. This is a great way to build your marketing funnel.

Grow website traffic
See a surge in direct and organic traffic as people start to search for you online.

Build a community
With podcasts, you get a steady supply of highly engaging multi-media, multi-format content for LinkedIn, Twitter, Instagram, and Facebook to grow a loyal community of followers.
End-to-end podcast management.
Audience research.
Ideation, conception, and branding of the podcast.
Visual branding of the podcast.
Email templates for guest outreach.
Guest interview script and Q&A.
Episode scheduling.
Podcast distribution on popular podcast aggregators.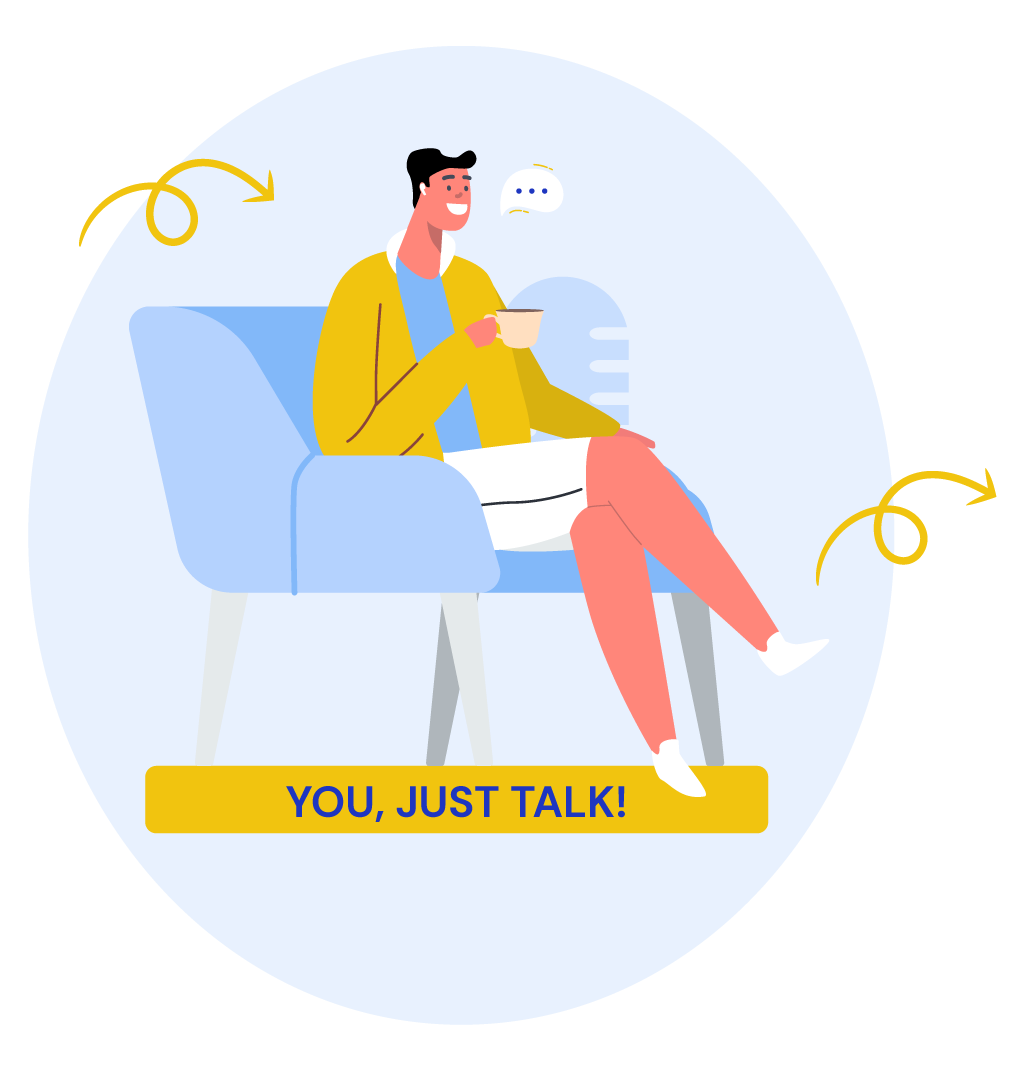 Show notes.
Social posts with captions to promote the podcast episodes.
Insightful snippets and quotecards converted into audiograms.
YouTube-friendly audiograms.
Email templates to promote the podcast episode.
Captions to help spread the word about the upcoming episode.
Captions your guests can share from their social handles to promote their episodes.
Podcast microsite
Podcast to blog-post
Transcripts
Hosting the podcast
1. Sign up.
2. Get the complete plan of action in month one:
⟶ Complete podcast strategy and execution plan.
⟶ Your podcast's name and visual branding templates.
⟶ Email templates for guest outreach.
⟶ The podcast teaser.
⟶ Interview questions for the first episode.
3. Launch the podcast from month two, with new episodes every 15 days.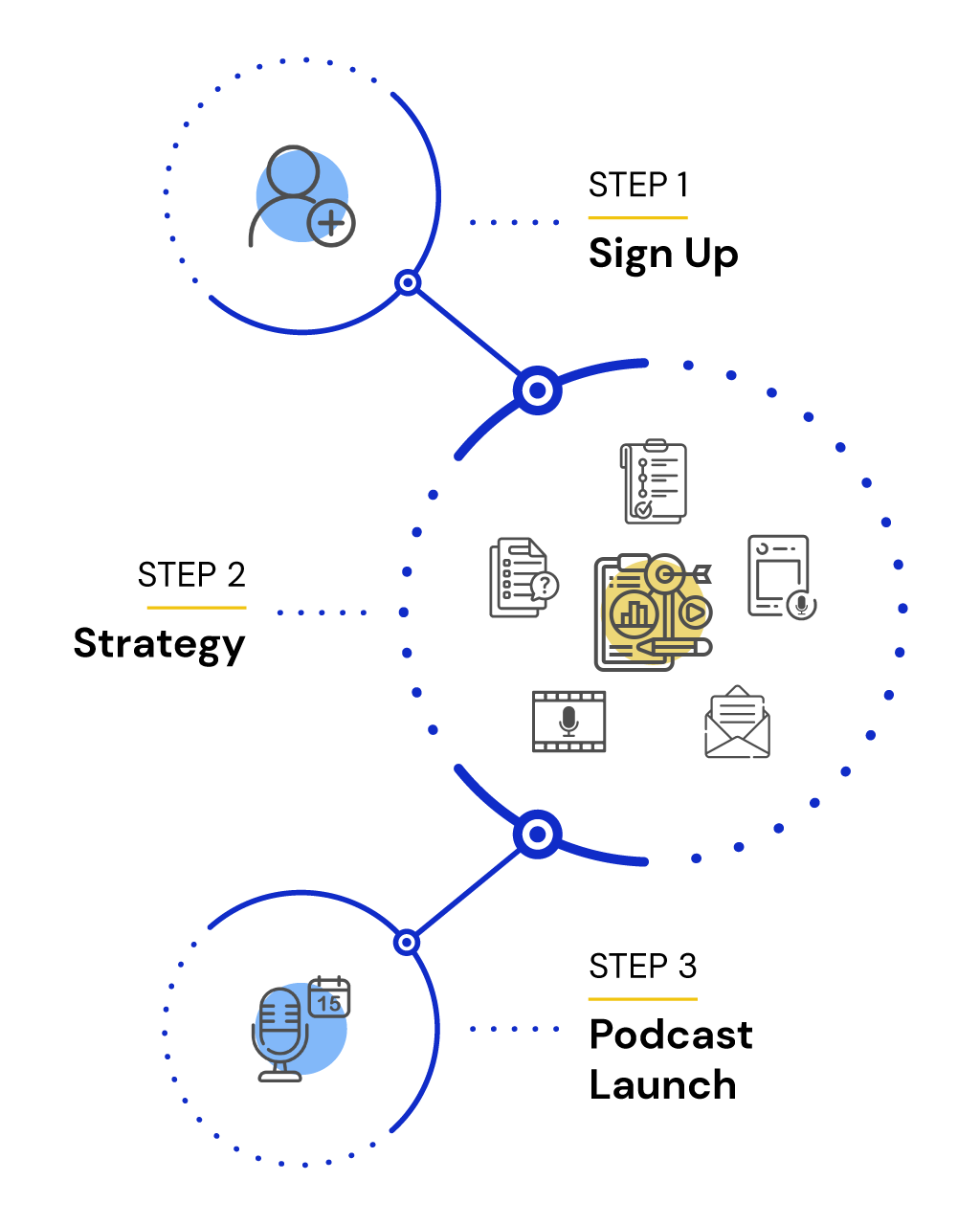 What is the average length of a podcast episode?
30 minutes is ideal, but we have seen engaging episodes go up to even 60 minutes, and people still love them.
Do you offer video podcasts?
Yes. Video podcast service is available at separate pricing. In our experience, guests are often reluctant to devote time to a video session, so we offer audio podcasts as our primary offering. That said, video podcasts help you stand out on brand-building channels like LinkedIn and can be used to build a strong presence on YouTube.
Do you take care of guest booking?
That's a bit of a Yes and a No. We create email and outreach templates that you can send to the folks in your network to be part of your podcast interviews. Once they respond, we take care of the logistics and interview prep from there.
Do I need to arrange a meeting with the guests?
No. Once the guests respond to the email you sent them using our templates, we will coordinate the interview date and time logistics. We also offer the option of asynchronous interviews if the guests cannot devote a fixed timeslot owing to timezone differences or busy schedules.

In such cases, the interview questions are shared with them, and they can share their recorded responses with us. Our sound editor then blends the questions spoken by the interviewer and the guest's responses for seamless podcast audio.
Do you provide a podcast host?
We can provide a podcast host if required. That said, the interview Q&As we provide are structured in a way that makes it easy for anyone from your team, including you, to host it like a pro.
Do you also help with podcast promotion?
Yes. We will create social media posts to help promote the podcast episode and also post them from your social media handles on your behalf.
What about distribution?
We will submit your podcast to leading podcast directories such as Apple, Google, Amazon Music, Spotify, and more.
Ready to Take Your Business To The Next Level?

A 603, Gokul Horizon, Thakur Village, Kandivali (E), Mumbai, India. Zip: 400 101
The forms on our website are protected by reCAPTCHA and Google. Privacy Policy and Terms of Service apply.
Handcrafted with lots of love and on several cups of coffee. All Rights Reserved • Springzo • By Tapzest Web Pvt Ltd • v5.0.1