Video content is one of the most powerful ways to connect with your audience at present.
According to a recent study, video content is expected to make up 82% of all internet traffic by 2023.
However, creating video content can be costly, resource-intensive, and time-consuming, especially if you want to produce high-quality and engaging videos for your brand. That's why you must repurpose video content and make it viral on different platforms.
Simply put, repurposing means using an existing video and transforming it into a new and unique piece of content. This can involve editing, cropping, resizing, and adding new elements, such as text and music, to enhance the video's appeal. 
But how can you repurpose your video content effectively and creatively?
In this article, we'll share 5 expert tactics to repurpose your video content into viral snapshots that will capture your audience's attention and drive them to take action. So, let's dive in!
What is Repurposing Video Content?
Before we delve into creative tactics, let's understand what it takes to repurpose video content. It is a smart and efficient way to leverage your existing assets and generate more value. 
Therefore, instead of creating new videos from scratch for every platform and purpose, you can reuse your videos in different ways and formats to suit your audience's preferences and needs.
Repurpose Video Content: What are the Advantages?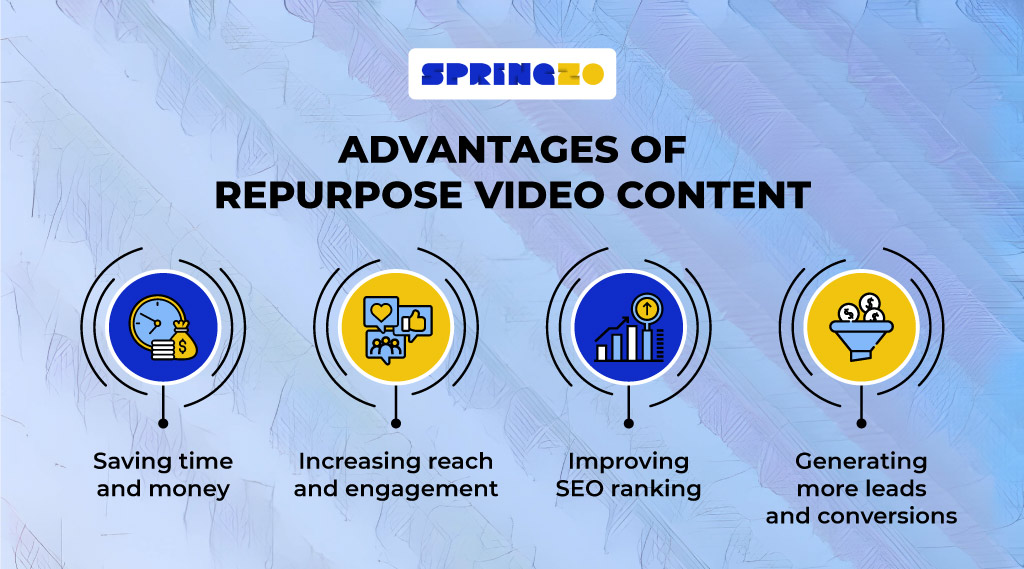 When you repurpose video content, it can help you achieve multiple benefits, such as:
1. Saving time and money
You don't have to spend hours or days producing new videos for every sales channel. Simply use the same video asset and tweak its footage as you see fit to meet the requirements of different platforms and sales narratives.
2. Increasing reach and engagement
You can expose your video content to a wider and more diverse audience by sharing it on multiple platforms. Try to increase your engagement rate by creating more interactive and relevant content for each platform.
In fact, almost 93% of brands say they got new customers due to the videos posted on their social media accounts.
3. Improving SEO ranking
You can boost your organic traffic and visibility by repurposing your video content into blog posts, infographics, podcasts, or other types of content that can rank well on search engines.
Additionally, use high-visibility keywords, tags, captions, and descriptions to optimize your video content for SEO.
4. Generating more leads and conversions
You can attract more potential customers and persuade them to take action by repurposing video content into lead magnets, landing pages, webinars, or email campaigns. Leverage effective call-to-actions, links, or buttons to direct your viewers to your website or offer.
5 Creative Tactics to Repurpose Video Content into Viral Snapshots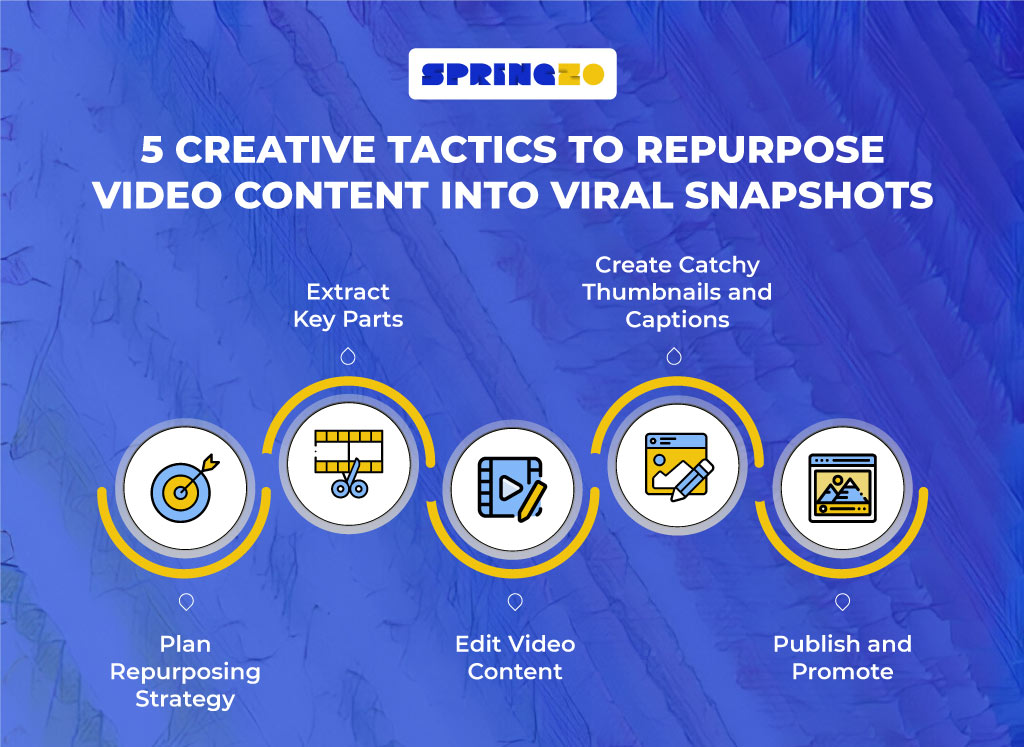 Now, let's dive into some of the best ways to repurpose video content into viral snapshots that will make your audience stop scrolling. 
1. Select your long-form content & plan the repurposing strategy
Select a long-form video with a compelling message, such as a tutorial, interview, testimonial, or presentation.
Define your objectives by deciding the type of short-form video you want to create (clip, story, graphic, podcast). Next, choose the platform that aligns with your target audience. Then, determine how many short-form videos you'll create and how they connect to tell a cohesive story.
Example: Let's say you have a 30-minute interview with an industry expert. Your strategy could involve breaking it into shorter clips, each focusing on a specific topic discussed in the interview. These clips can be shared on various social media platforms to cater to different segments of your audience.
2. Extract Key Parts of Your Long-form Video
Watch your long-form video and identify the main points or takeaways you want to convey in your short-form videos. You may also utilize transcripts or captions to pinpoint relevant sentences or phrases. Moreover, trim filler words, pauses, and irrelevant content. Don't forget to save these extracted segments as separate clips or files.
Example: From your tutorial video, you might extract the step-by-step process of solving a common problem. This extracted segment becomes a concise and informative short-form video.
3. Edit and enhance to repurpose video content better
Employ video editing software or tools to refine your short-form videos. Adjust size, length, and format to match platform specifications. Consider elevating engagement by adding effects, filters, transitions, stickers, music, or sound effects.
Example: Using a video editor, you can enhance the visual appeal of the short-form video by incorporating engaging animations and trendy music in the background, making it more captivating for viewers.
4. Create eye-catching thumbnails and captions for your videos
One of the simplest yet most effective ways to repurpose video content is to create eye-catching thumbnails and captions for your videos. These are the first things that your viewers see when they encounter your videos on social media or other platforms. So, these components can make or break your click-through rate and watch time.
To create eye-catching thumbnails and captions for your videos, you should:
Add contrast: Use bright colors, bold fonts, or striking images to make your thumbnails stand out from the crowd. You can also use contrast to highlight the main message or benefit of your video.
Use emotion: You can also add facial expressions, emojis, or words that evoke emotion in your viewers. You can also use humor, curiosity, or urgency to pique their interest.
Utilize clarity: Clear and concise language that communicates the value proposition of your video also helps. Moreover, you can also place questions, numbers, or keywords to catch their attention.
Example: This thumbnail from TEDx Talks uses contrast, emotion, and clarity to create a captivating snapshot for their video.
5. Publish and Promote Your Snapshots
Upload your short-form videos to your chosen platform and optimize them for SEO and visibility. Assess leveraging keywords, compelling titles, detailed descriptions, eye-catching thumbnails, and appropriate categories. 
Additionally, distribute your short-form videos across other platforms where your audience is most active. Cross-promote them with your long-form video, creating a web of interconnected content ecosystems to drive more traffic and conversions.
Example: After optimizing your short-form video about solving a common problem, you can publish it on YouTube with a catchy title, description, and tags. Then, share it on platforms like Twitter and Facebook, directing viewers back to your long-form video.
Best Social Media Platforms for Repurposed Video Content
Here's a breakdown of the best social media platforms for repurposed video content: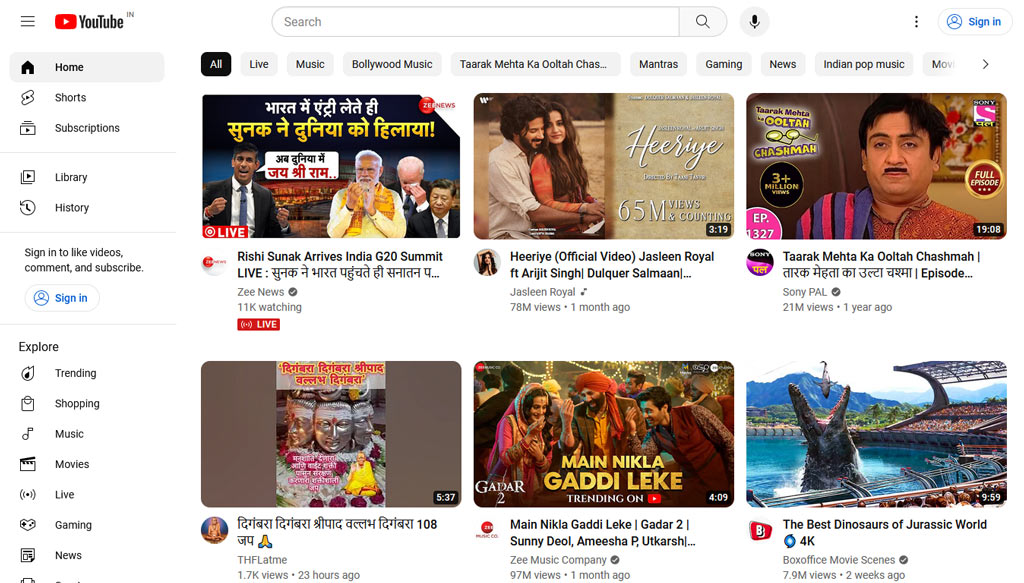 YouTube is the largest and most popular video-sharing platform in the world.
Ideal For: YouTube is perfect for your repurposed videos in different formats, such as short clips, stories, slideshows, or podcasts. You can also use the platform to optimize your videos for SEO, monetize your videos with ads, and interact with your viewers with comments and live streams.
Benefits: YouTube's search engine and algorithm favor video content, making it a valuable platform for discoverability. It allows you to create a dedicated channel for your brand where viewers can subscribe, get product updates, and engage with your content.
Tips: Optimize video titles, descriptions, and tags for SEO to increase visibility. Encourage viewers to subscribe for future updates.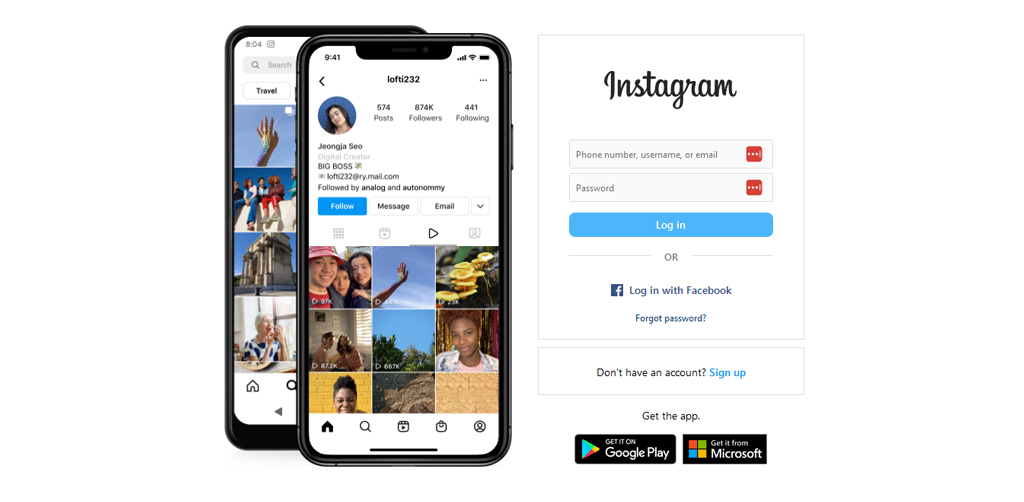 Instagram is a visual and creative platform that allows you to share your repurposed videos in various ways.
Ideal For: It's great for repurposing visually appealing snippets, behind-the-scenes footage, and promotional content.
Benefits: Instagram offers features like Stories and Reels, perfect for repurposing and reaching different audience segments. The platform's strong emphasis on visuals allows for creative and eye-catching content.
Tips: Use relevant hashtags, location tags, and engaging captions to boost discoverability. Consistency is key on Instagram.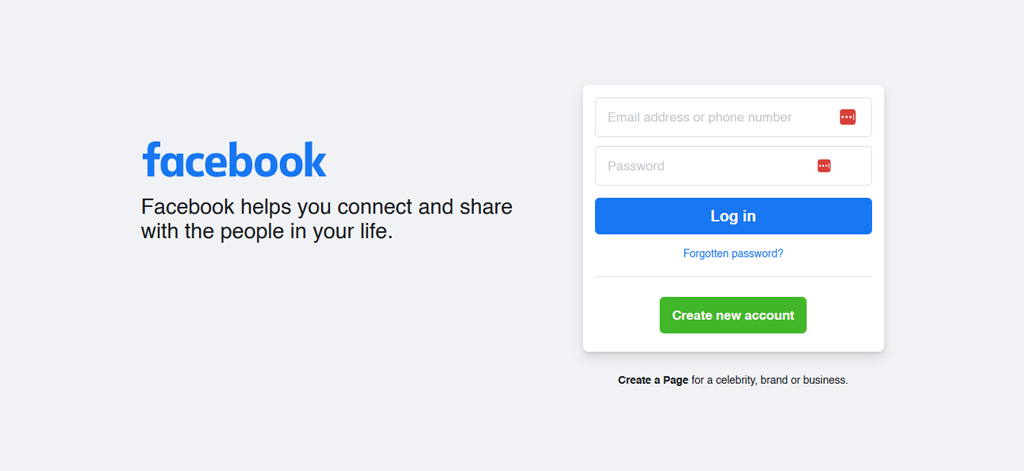 Facebook is the largest and most diverse social media platform in the world.
Ideal For: Facebook is a versatile platform suitable for repurposing a wide range of video content, including informative videos, live streams, and promotional clips.
Benefits: With its large user base and diverse demographics, Facebook offers extensive reach potential. Live streaming can engage your audience in real time, and Facebook Groups provide niche communities for targeted content distribution.
Tips: Consider boosting posts or running Facebook ads to expand your reach. Engage with comments and foster discussions to increase visibility.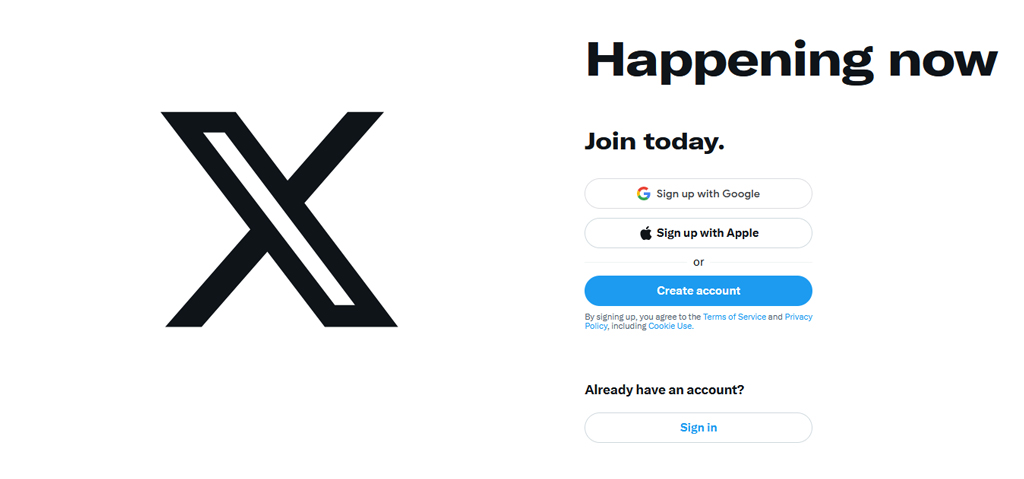 Twitter or X is a fast-paced and concise platform that allows you to share your repurposed videos and connect with your customers.
Ideal For: Twitter is known for its brief and snappy updates, making it ideal for repurposing concise video clips, GIFs, and teasers.
Benefits: It is a dynamic platform with a focus on trending topics. Repurposing can help you stay relevant in ongoing conversations. Twitter's retweet feature can amplify your content's reach.
Tips: Use relevant hashtags and leverage trending topics when appropriate. Keep videos concise and attention-grabbing.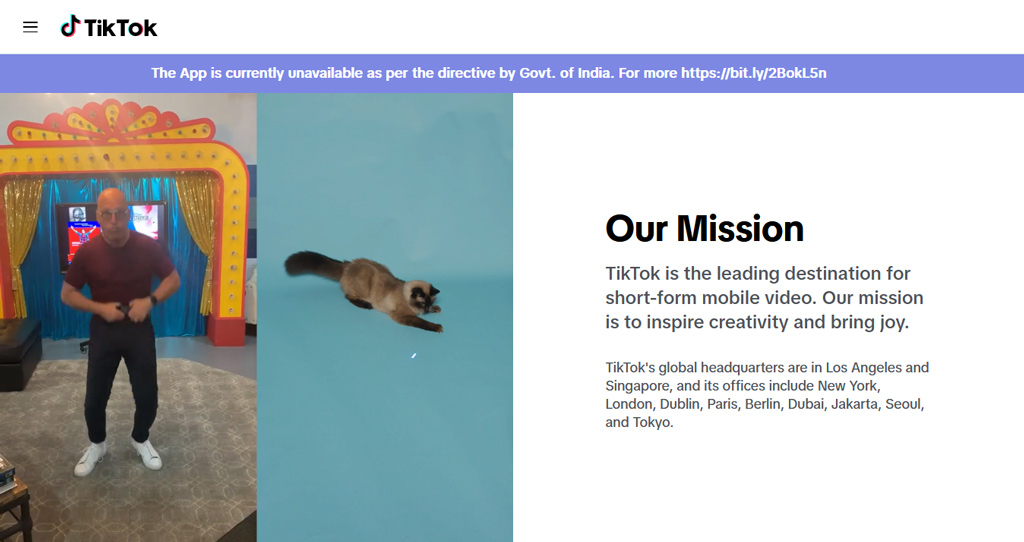 TikTok is a trendy and widely popular platform that is all about short-form, entertaining video content.
Ideal For: It's perfect for repurposing creative, attention-grabbing videos that cater to a younger demographic.
Benefits: TikTok's algorithm can quickly push your content to a wide audience if it gains traction. It's a platform where trends can go viral rapidly, making it suitable for innovative repurposing strategies.
Tips: Embrace TikTok trends and challenges to increase discoverability. Focus on delivering authentic and engaging content that resonates with the TikTok community.
6 Tools and Resources for Efficient Video Repurposing
If you want to repurpose video content efficiently and effectively, suitable tools and resources can help you immensely. Here are some of the best tools and resources for video repurposing that we recommend: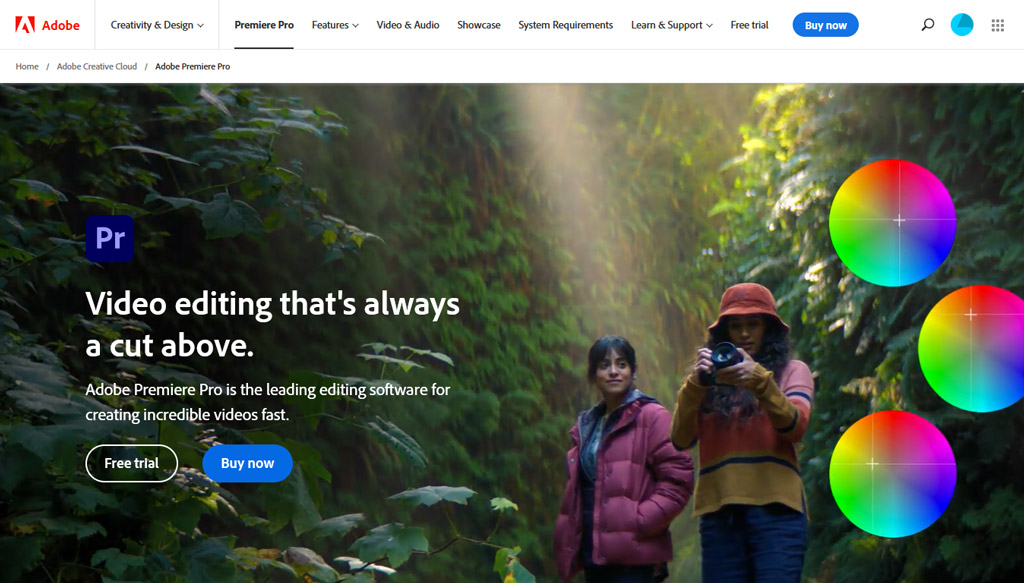 Adobe Premiere Pro is a powerful and professional video editor that is ideal for beginners. It has a clean and intuitive user interface, loads of useful tools and features, and different modes to suit your experience level.
You can use Adobe Premiere Pro to edit, crop, resize, and add effects to your videos. You can also use it to create thumbnails, graphics, slideshows, and podcasts from your videos. This tool supports various video formats and resolutions, including 4K and VR. You can also export your videos to different platforms, such as YouTube, Facebook, or Vimeo. 
Price: Adobe Premiere Pro is a subscription-based software that costs $20.99 per month or $239.88 per year.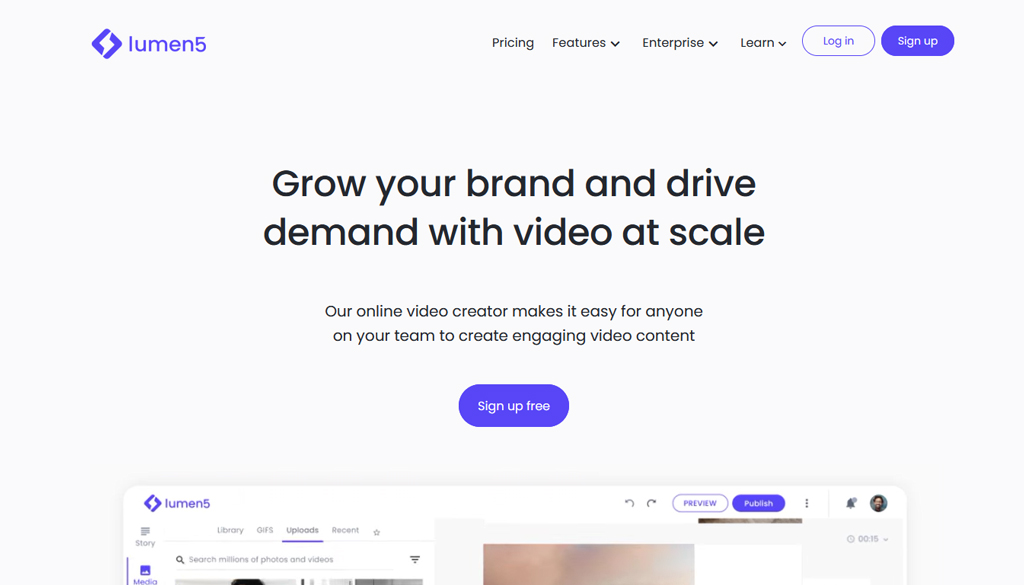 Lumen5 is a video creation platform powered by AI that enables anyone to create engaging video content easily. You can use this tool to turn your blog posts, articles, or text into videos with stunning visuals and soundtracks. You can customize your videos with your media, brand colors, fonts, and logos. 
Lumen5 has a library of over 10 million stock media and music from Getty Images, Shutterstock, and PremiumBeat. It also uses natural language processing and machine learning to analyze your text and generate the best video scenes for you. You can also edit your videos with drag-and-drop tools and preview them in real time. 
Price: Lumen5 offers a free plan that allows you to create up to 10 videos per month with a watermark and Lumen5 branding. You can also upgrade to a premium plan that starts from $19 per month or $228 per year.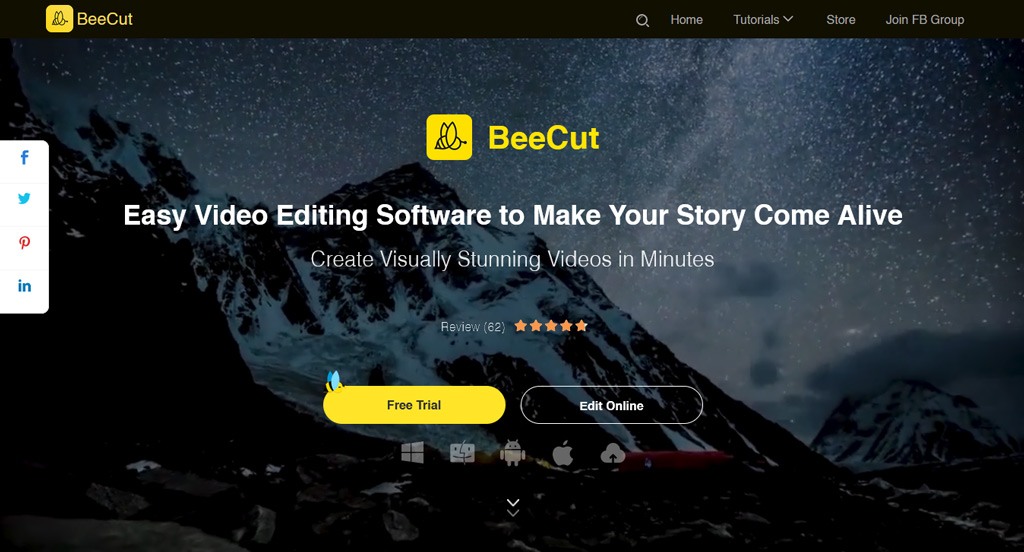 BeeCut is a simple and versatile video editor that offers numerous video editing tools, such as text overlays, filters, transitions, elements, and more. You can also use it to crop, trim, or rotate your videos according to your needs.
BeeCut supports various aspect ratios and resolutions for your videos, such as 16:9, 9:16, 1:1, or 4:3. You can also export your videos to different formats, such as MP4, MOV, AVI, or GIF. BeeCut is compatible with Windows, Mac, iOS, and Android devices.
Price: You can download the software for free and use it without any watermark or time limit. However, some features and resources are only available for VIP users who pay $29.95 per year or $59.95 for a lifetime.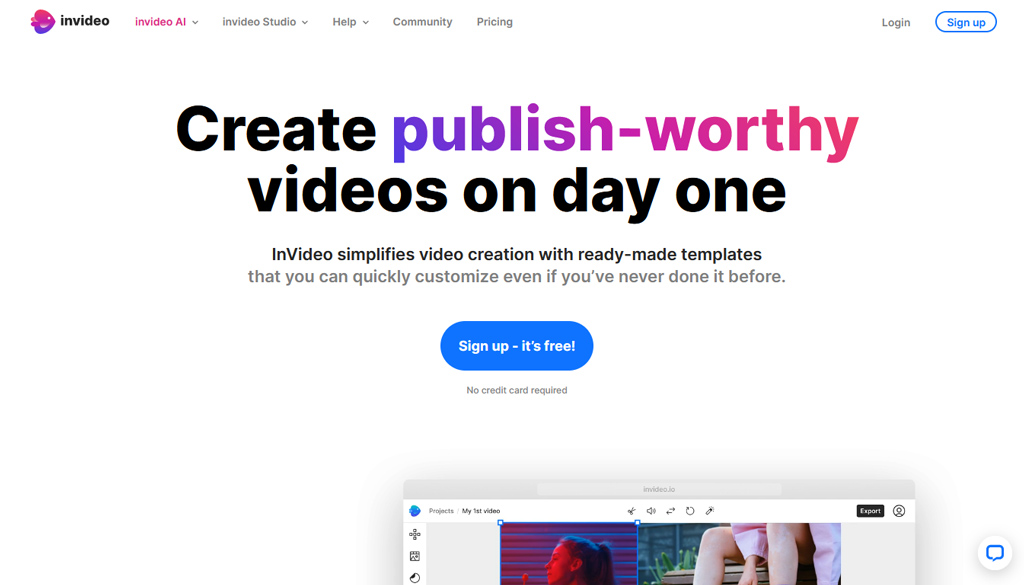 InVideo is an online video editor that helps you create professional videos in minutes. Use this tool to make videos for social media, marketing, education, and more. You can choose from over 5000 templates or start from scratch. You can also access millions of stock media and music from iStock, Shutterstock, and Storyblocks. 
InVideo also has AI tools to generate scripts, convert text to video, and remove backgrounds. You can also edit your videos with drag-and-drop tools and preview them simultaneously. 
Price: InVideo offers a free plan that allows you to create up to 60 videos per month with a watermark and a 15-minute limit. You can also upgrade to a premium plan that starts from $10 per month or $120 per year.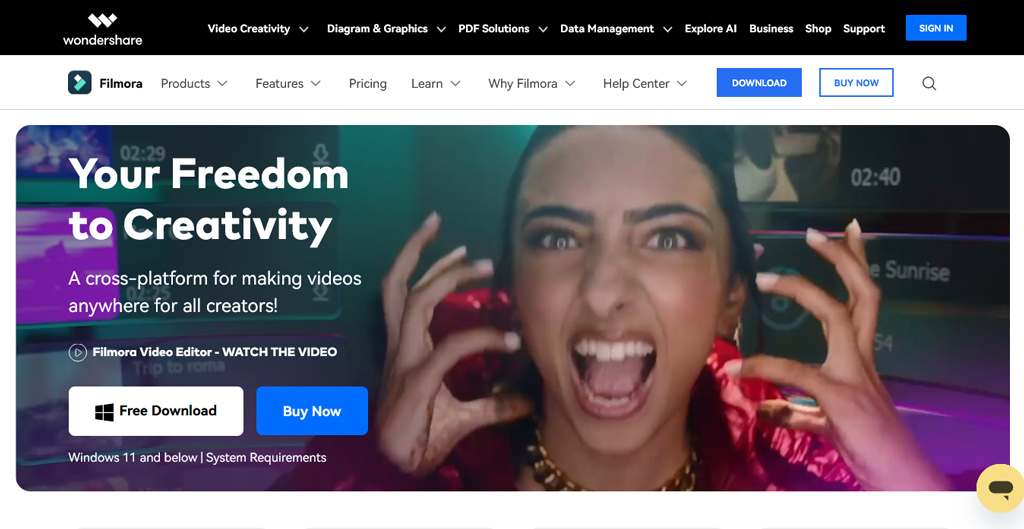 Wondershare Filmora X is an easy-to-use and affordable video editor suitable for beginners and intermediate users. It has an attractive interface, a variety of filters and transitions, and video tutorials to help you get started.
You can use Wondershare Filmora X to edit, crop, resize, and add effects to your videos. You can also create thumbnails, graphics, slideshows, and podcasts from your videos. Wondershare Filmora X supports various video formats and resolutions, including 4K and VR. Moreover, you can also export your videos to different platforms like YouTube, Facebook, or Vimeo. 
Price: Wondershare Filmora X is a one-time purchase of software that costs $69.99 for a lifetime.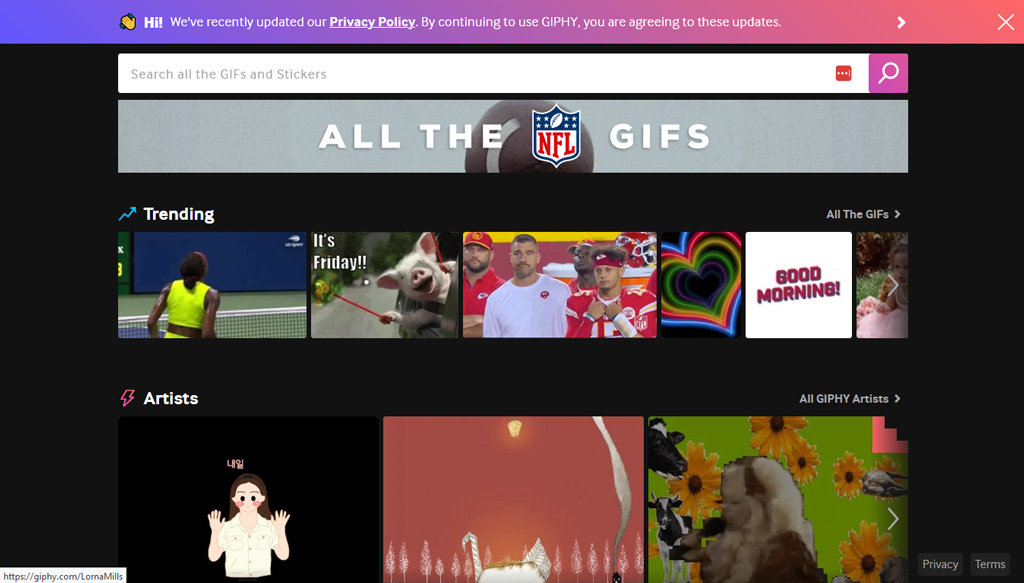 GIPHY is the largest online database and search engine for GIFs and animated stickers. You can use the website to find and share funny, reaction, or unique GIFs and stickers across all your favorite social channels, such as Facebook, Instagram, Snapchat, and more. 
You can also create your own GIFs and stickers using GIPHY's tools and apps.
Price: GIPHY is free to use and does not require any registration or login. However, you can create an account to save your creations and access more features and content.
Challenges and Solutions in Repurposing Video Content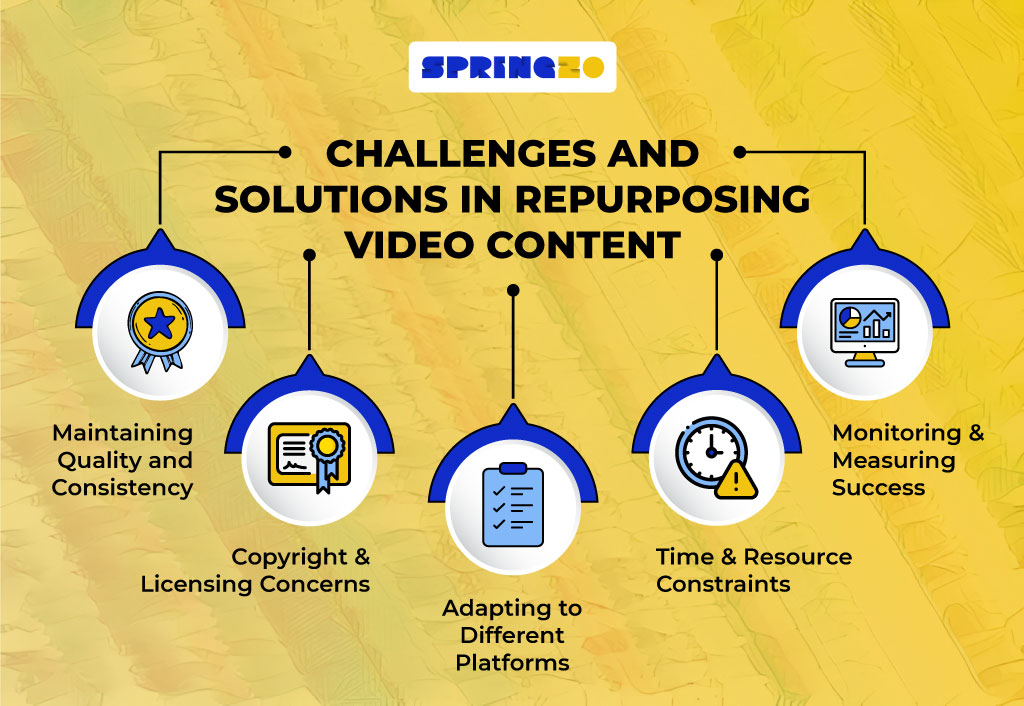 Repurposing video content can be a rewarding and effective strategy for your content marketing. However, it can also come with some challenges you must overcome.
Here are some common challenges and solutions for repurposing video content:
1. Maintaining Quality and Consistency
Challenge: Repurposing may lead to variations in content quality and tone. When transforming video content for different formats or platforms, it can be challenging to maintain the same quality and consistency as the original content.
Solution: To address this challenge, developing clear guidelines and templates for repurposing is crucial. These guidelines should encompass branding elements, messaging, and quality standards.
2. Copyright and Licensing Concerns
Challenge: Using third-party content without proper rights can lead to legal issues. Repurposing often involves incorporating various elements, including images, music, or video clips, which may have copyright restrictions.
Solution: To navigate copyright and licensing concerns, always prioritize obtaining the necessary permissions and licenses for any material you include in your repurposed content. 
Consider using royalty-free or licensed content to avoid legal complications. Additionally, educate your team and creators on copyright laws to ensure compliance.
3. Adapting to Different Platforms
Challenge: Each platform has unique requirements and audience expectations. Repurposing content for different platforms requires understanding the distinct formats, styles, and audience preferences on each platform.
Solution: Invest time in studying the nuances of various social media and content platforms to overcome this challenge. Tailor your repurposed content to align with the specific platform's format and style.
For example, content on Instagram may require more visual appeal and brevity, while LinkedIn may demand a more professional tone. Adapting to these differences increases the likelihood of resonating with your target audience on each platform.
4. Time and Resource Constraints
Challenge: Repurposing can be time-consuming, especially if done manually. Creating different versions of your content for various platforms can strain your resources and take up valuable time.
Solution: To optimize your time and resources, consider investing in automation tools and workflows designed for content repurposing. These tools can streamline the process, making it more efficient and cost-effective.
Automation can help with tasks like resizing videos, generating captions, and formatting content for different platforms, allowing your team to focus on creating engaging, platform-specific content.
5. Monitoring and Measuring Success
Challenge: It can be challenging to track the effectiveness of repurposed content. Measuring the impact and performance of repurposed content across multiple platforms can be complex.
Solution: To assess the success of your repurposed content, establish clear Key Performance Indicators (KPIs) tailored to your specific goals. Regularly analyze engagement metrics, reach, conversion rates, and other relevant data points for each platform.
You can also consider using analytics tools provided by social media platforms or third-party analytics services to track performance. 
Springzo: Your Guide to Mastering Video Content Repurposing
To Repurpose video content is to pursue a dynamic strategy that can significantly enhance your online presence and engagement. We've explored five creative tactics that can transform your videos into viral sensations.
The repurposing strategies address challenges such as maintaining quality, navigating copyright concerns, adapting to diverse platforms, optimizing resources, and effectively monitoring success.
However, repurposing isn't as simple as it may seem; navigating the world of content repurposing can be daunting, and getting lost in the process is easy.
That's where Springzo comes to your aid. Our dedicated team is here to guide marketers, businesses, and creators like you through the intricacies of content repurposing with ease and expertise. Don't let the challenges of repurposing hold you back. 
Book a consultation today, and let's embark on the path to content excellence together!
FAQs
Q1: Is it essential to repurpose video content for all platforms?
A1: While repurposing is beneficial, tailoring your approach to each platform's audience and format is vital. Focus on platforms where your target audience is most active.
Q2: What's the ideal length for short video clips or stories?
A2: Short clips and stories should be concise, typically ranging from 15 seconds to 1 minute, depending on the platform's specifications.
Q3: Can I repurpose video content from 5 years ago?
A3: Absolutely! Repurposing informative and value-driven video content can breathe new life into old content and reintroduce it to a contemporary audience.
Q4: How can I track the effectiveness of my repurposed content?
A4: Use analytics tools provided by social media platforms to monitor engagement, reach, conversions, and other relevant metrics. Adjust your strategy based on data insights.