Meet Your New-Age
LinkedIn Marketing Team
We do the heavy lifting for busy executives like you to maximize your presence on LinkedIn.
✅ Opinionated, thoughtful content.
✅ Works like your internal team.
✅ Reliable than Freelancers.
✅ Affordable than Agencies.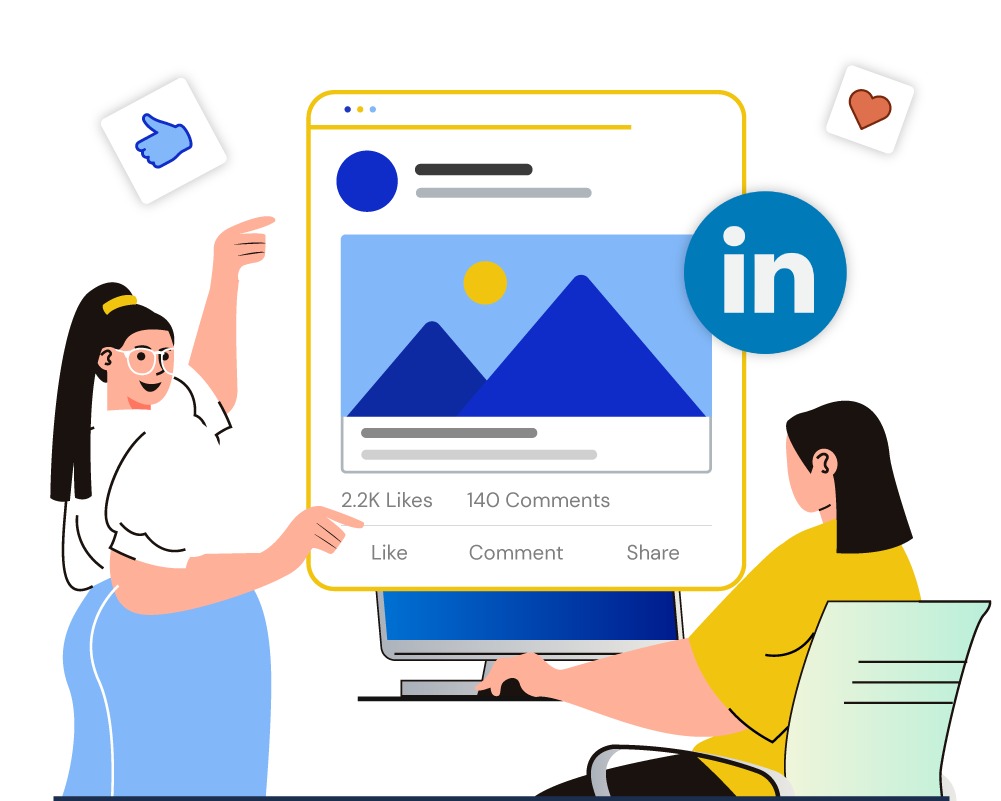 Here's How We Make LinkedIn Your Competitive Advantage…

We send connection requests with personalized messages.

We will enhance your profile to highlight your accomplishments and update your bio to add a dash of extra zing to it.

We schedule a 30-min fortnightly call with you to bounce off some ideas. Get your perspective on them and post narrative-driven, engaging content from your profile.

We leave comments and likes on posts by people in your network, especially, the ones in your targeted segment.
LinkedIn Is Critical to Your Business.
If Founder-led sales is a fact, so is founder-led content.
Imagine walking down the street and having a stranger approach you, extending their hand and saying,
"Hi, I'm Roger, VP of Business at Acme Corp.
We sell X and can help with Y.
Want to meet again?"
Sounds creepy, right? This is what many LinkedIn users do, but it's not the right way to go.
LinkedIn is a professional network where business is built through relationships, not just connection requests.
To succeed on the platform, you need to develop your own voice, showcase your expertise, and establish authority in your field.
Only then can you expect someone to buy from you.
Anything less is just like cold calling.
But all this takes time and effort, and as a busy decision-maker, it may not always be possible.
There are other important business functions that require your attention.
How Will LinkedIn Marketing Help You?
It can generate sales and leads and help close deals.
High-impact LinkedIn content helps you build your personal brand and become an authority in your space.

Demand Generation & Sales
Cut through the advertising clutter and take advantage of high-growth social channels.
Differentiate offerings and value propositions from your competition by educating customers, delivering good ideas and providing a unique perspective.
Exemplify that you understand your customers' needs, preferences, and behaviours.
Become part of the conversation early in the consumer journey by communicating your insights.

Employer Branding
Be an employer of choice to attract top talent the inbound way.
Retain talent giving them the confidence that they are working with an industry leader.
Build a strong company culture by effectively communicating and iterating on it.

Personal & Business Branding (New Age PR)
Allow your audience to get to know you.
Come across as someone who understands the industry, the business and the whole ecosystem.
Give a face to your brand. Customers and investors tend to trust a face more than a brand.

Get invites to conferences and summits as a speaker/guest as you build your brand.

Supplement your marketing content with thought-leadership content.
Why Choose Us Over DIY LinkedIn Marketing?
You may have the know-how to tackle your LinkedIn presence on your own. With countless tips and tutorials available online, such as:
Posting content 2-3 times a week.

Engaging in meaningful interactions with industry content.

Connecting with new industry connections.

Participating in industry conversations.
Do You Really Need Us?
Yes, you do, and here are 3 reasons why!
🤷🏽‍♂️ Balancing daily responsibilities with managing a strong LinkedIn presence can be a huge challenge. Let us handle it for you.
👎🏽 What started as a diligent effort to publish 2-3 times a week may have slowly dwindled to 1-2 posts a month. We'll keep you on track.

🫱🏽‍🫲🏽 With limited time, engaging with others to build your network can be tough. We'll make sure you're making connections that matter.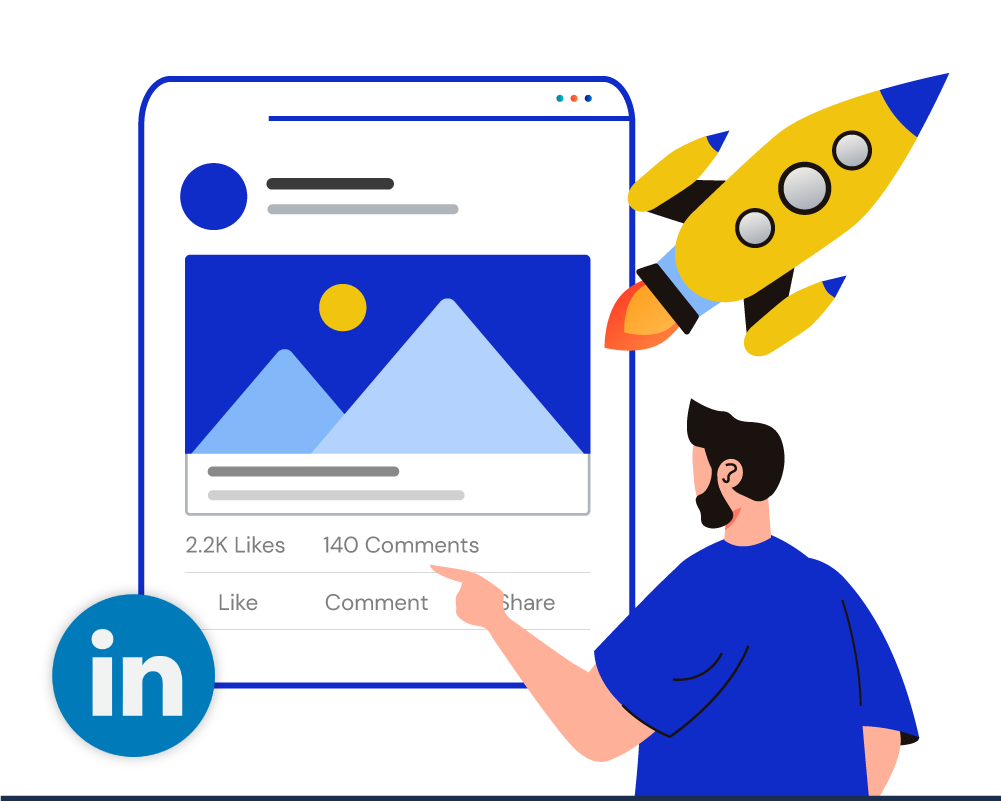 Ensure Your LinkedIn Posts Aren't a Laughing Stock
Don't hire just anybody. Hire professionals who can craft well-articulated content that aligns with your values and opinions.
Pros who understand what NETWORKING & BUSINESS means
Professionals, not youngsters yet to experience lives, write your LinkedIn content – People who understand what makes people buy things.
First principles approach
We approach from first principles… the focus is not getting eyeballs. The focus is on people to know you for your expertise, thinking, and opinions.
No cringe. Opinionated, balanced content
Random photos in cafes, hotel rooms, and swimming pools that have no connection to the content of the post or posts that scream, "I'm desperate for attention." – NOPE. We don't do that.
Instead, what we do is help you share your thoughts in a way that appears balanced, and opinionated and elicits conversations. 
Get a thinker, not just a ghostwriter
As a senior executive or founder looking to build and grow your network, prioritize hiring a thoughtful individual over a mere translator.
Find someone who can expand upon your ideas, not just transcribe them. There are already tools available for simple transcription.
Hire someone who adds value beyond that.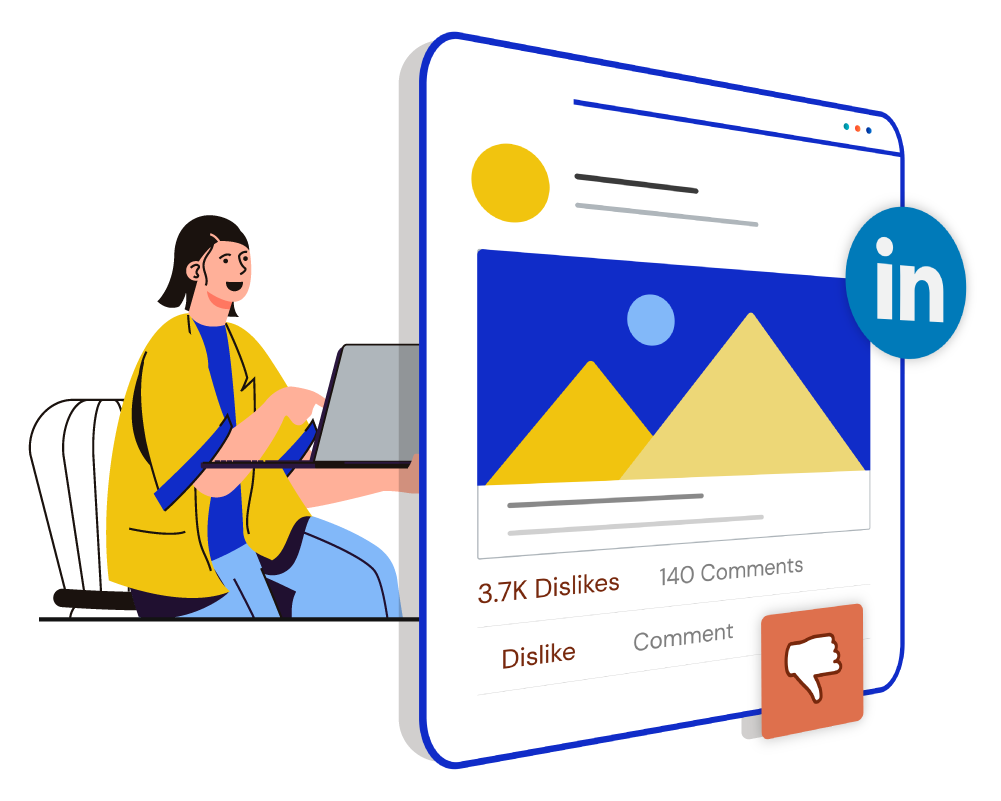 You are an expert in your industry, full of insights. All we ask is to share your insights in your own style.
We will work around your time constraints, and ensure you are comfortable during the remote interviews.
#1. 30-minute conversations every week, done remotely
We will set up a time and record a 30-minute audio conversation with you or your team member weekly.

We don't need you to be too formal either. Be relaxed, be yourself.

It is all done remotely.
#2. We refine, polish, and ready your content for action
Our interview experts will then refine the audio recordings and call notes to identify insightful pieces and topics to write about.
#3.
You get LinkedIn posts to make you a thought-leader
Our copywriting team then jumps into action to convert the insights into LinkedIn posts that are conversational, engaging, on-brand and most importantly…authentic.


 
#4.
Bonus! We share the content on your behalf on your socials!
Your dedicated account manager then gets them published on your social handles at strategic times.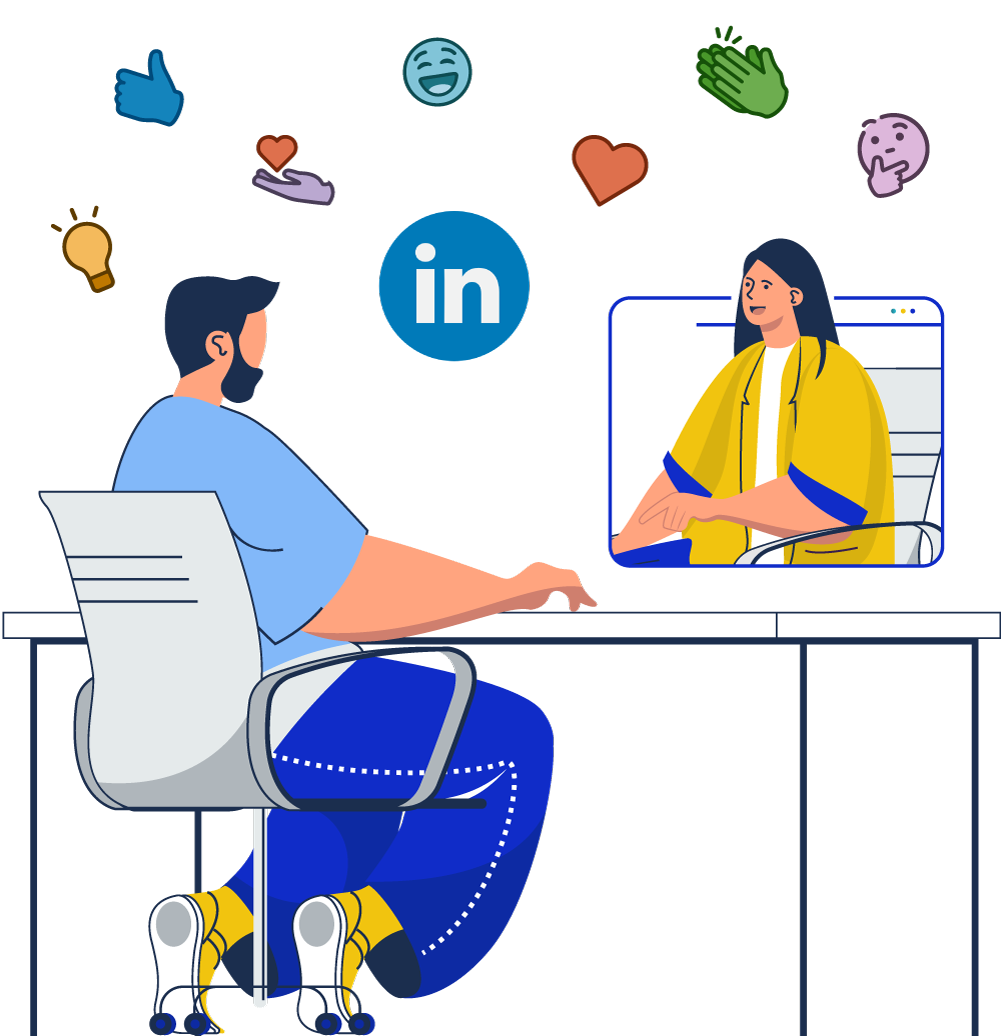 You're Not Just Hiring a Writer.
You're Hiring a Team of Professional LinkedIn Marketers.






Dedicated Account Manager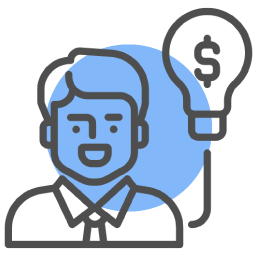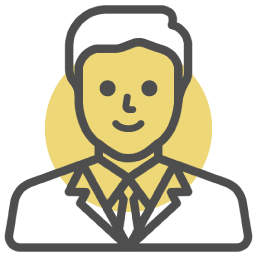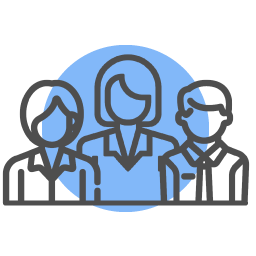 Executives in Senior Roles
We Are a Good Partner for You, If…
If you understand that building a brand is a long-term strategic game.
If you have many ideas and thoughts but no time to present them in an engaging manner.
If you want to really stand out from the crowded social media space where everyone portrays their written words as groundbreaking content.
We Are NOT A Good Fit, If…
You are looking for quick results.
Your excitement fades out after a couple of months. Remember, this is a long-term strategy.
You cannot give 30 minutes every week.
You believe thought leadership is NOT a marketing asset.
Brands who are in love with us…










Click to check the plans that best suit you 👇🏽
| | Starter | Pro | Growth |
| --- | --- | --- | --- |
| LinkedIn Content | | | |
| LinkedIn posts per month | 8 | 12 | 16 |
| Quarterly profile optimization | ✅ | ✅ | ✅ |
| Comments per day | 2 | 3 | 5 |
| Fortnightly Interview Calls | ✅ | ✅ | ✅ |
| Add-on → We record the interviews and turn them in to social snippets | | | |
| Add-on → Setup 1 call every week with a thought leader in your space and turn that in to social content | | | |
| Add-on → Repurpose the content for Twitter | | | |
| | | | |
| LinkedIn Outreach | | | |
| No. of new connection requests a month | 150 | 250 | 500 |
| Ideal decision makers identified | ✅ | ✅ | ✅ |
| Ongoing campaign optimization | ✅ | ✅ | ✅ |
| | | | |
| | | | |
| LinkedIn Ads | | | |
| Create Campaigns | - | ✅ | ✅ |
| Setup tracking | - | ✅ | ✅ |
| Manage campaigns | - | ✅ | ✅ |
| Retargeting audiences created; | - | ✅ | ✅ |
| Fortnightly Reports | - | ✅ | ✅ |
| | | | |
| Strategy Calls | Monthly | Fortnightly | Fortnightly |
| Dedicated account manager | ✅ | ✅ | ✅ |
| | | | |
| Pricing (₹) | 45000 | 95000 | 125000 |
Here
's What They Have to Say About Us
…
Super happy with their work. What amazed me the most was how they were able to come almost closer to my thought process and write LinkedIn posts for me. Happy with that. I also asked them to comment on the posts of people in my network. What started as a trial exercise of 2 comments a day, I asked them to do 5 comments a day. I was so happy with their work.
If you are serious about using LinkedIn to build your personal brand and visibility for your business, just sign up with them.
Founder & CEO, a Leading Edtech Company
I was not sure if I wanted to be active on LinkedIn. I was just tired of all the cringe content you see from novices. And honestly, I didn't have the time or the patience to sit every day, write content and stay connected to my network on LinkedIn. But the irony, I was spending at least an hour every day on LinkedIn. And that made realize I should make the most of my LinkedIn.
Springzo team just cracked it for me. Their fortnightly calls are so helpful, and I can share my ideas. In fact, these calls helped refine my thinking too.
Co-Founder, a Fintech & NBFC Company
Very much recommend these folks. We started using LinkedIn actively, I think 7-8 months before we started talking about fundraising. We didn't do any marketing content on LinkedIn. For all these months, we just focused on sharing our understanding of the industry, the problem we encountered, how we solved it, the newer things we were doing, and much more. It was like building in public.
By the way, when we hit the road for fundraising, it was like warm intros. VCs investing in our space at least knew about us. And that was good.
Co-founder & COO, a Design-tech Firm
For me, the biggest benefit of being active on LinkedIn was in recruitment. I think founders don't realize how important LinkedIn is for attracting great talent. And no, that should not be the job of your recruiter or your HR. As a co-founder, you should share what makes your workplace great in true words – the what and how of the product and the ethos behind it.
Springzo folks did all for me, with me giving at most 2-3 hours every month.
Just try them out.
Co-founder and Head of Product, a Martech Product
Twitter & LinkedIn are key parts of our content distribution strategy. Also, we were clear that the content we produce on our website should be shared by me and key execs in the company too. Cliche, but they rightly say, people, buy from people. More so when you are in B2B.
With Springzo's help, we could post almost daily on LinkedIn & Twitter and grow our network. Their LinkedIn network growth plan is perfect. Honestly, they are affordable too, not putting the budgets of our other content marketing programs at risk.
Head of Marketing, Work Collaboration App
Ready to Take Your Business To The Next Level?